Jul 18
Let me introduce: Nooshub Newsreader
I started Nooshub in 2018 searching for a better way to read daily news than Twitter, Facebook and Co. Since then a lot has happened and I think the core features are now pretty much solid. So I thought it would be time for a proper introduction.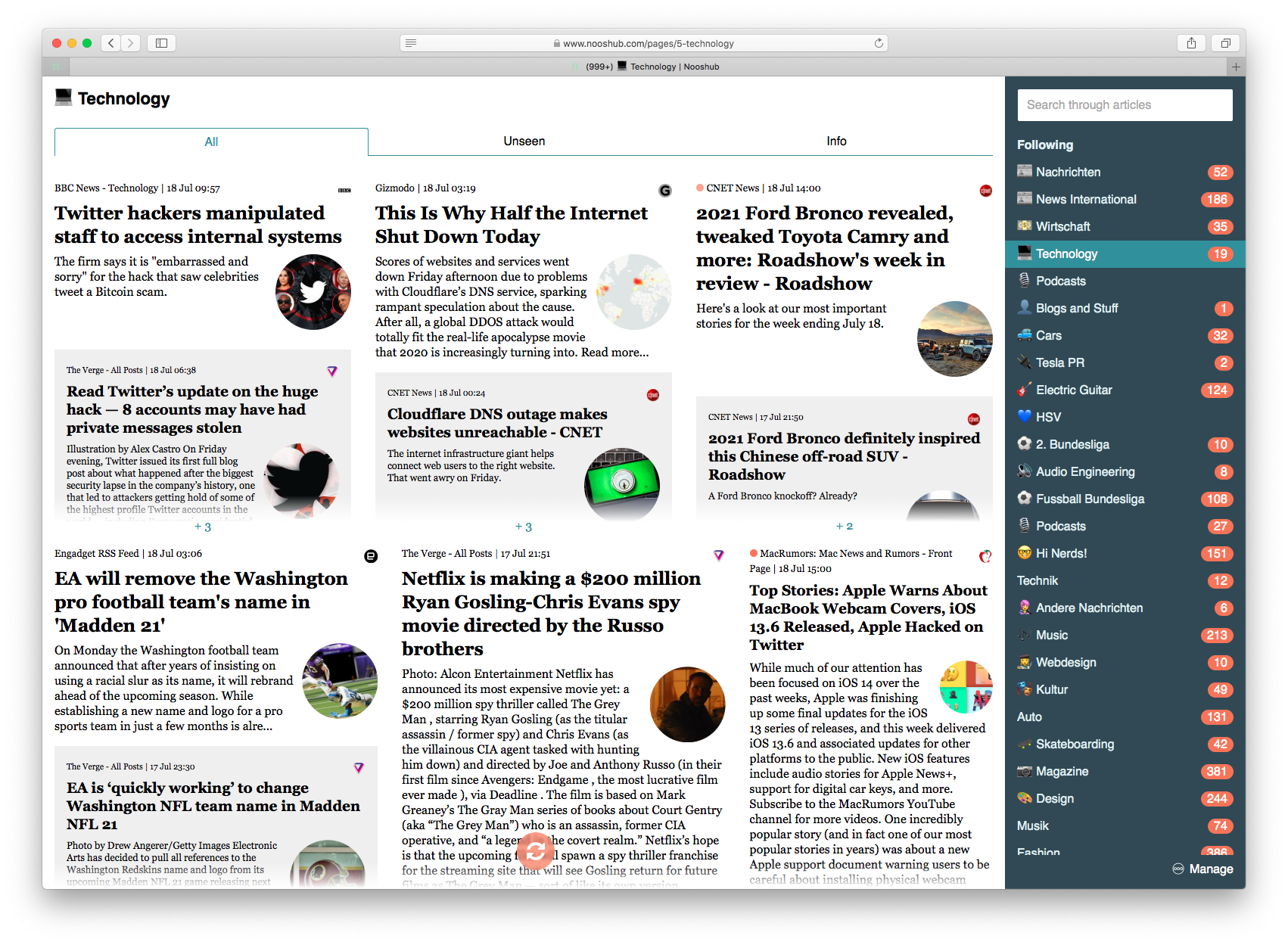 Another RSS Reader? Seriously? It's 202X!
RSS was somehow replaced by proprietary services like Twitter, Facebook, Google News and Apple News, so why not just use these? First the algorithms used to present or filter content in all platforms mentioned are not transparent and changing all the time. I consider this problematic. It is not so bad if an e-commerce platform suggests wrong products, but for news content there need to be higher standards, as those content may even influence your voting decisions. Second - those platforms are closed systems, and third with some of them I can only give preferences, not the exact news sources. So I remembered a little program called Vienna I had installed some years ago and gave RSS another chance.
The problem not using algorithms
Vienna is an old school RSS reader (not in a bad way) that works like an email client and lists incoming articles chronologically. So I put the RSS feeds from all my favourite websites into the reader just to realise, that it is too time consuming for a non-journalist-mortal like me to read through all the articles. RSS was invented at a time when there was a lot less content floating around. If a blog published an article once a week, it was the perfect tool for the job.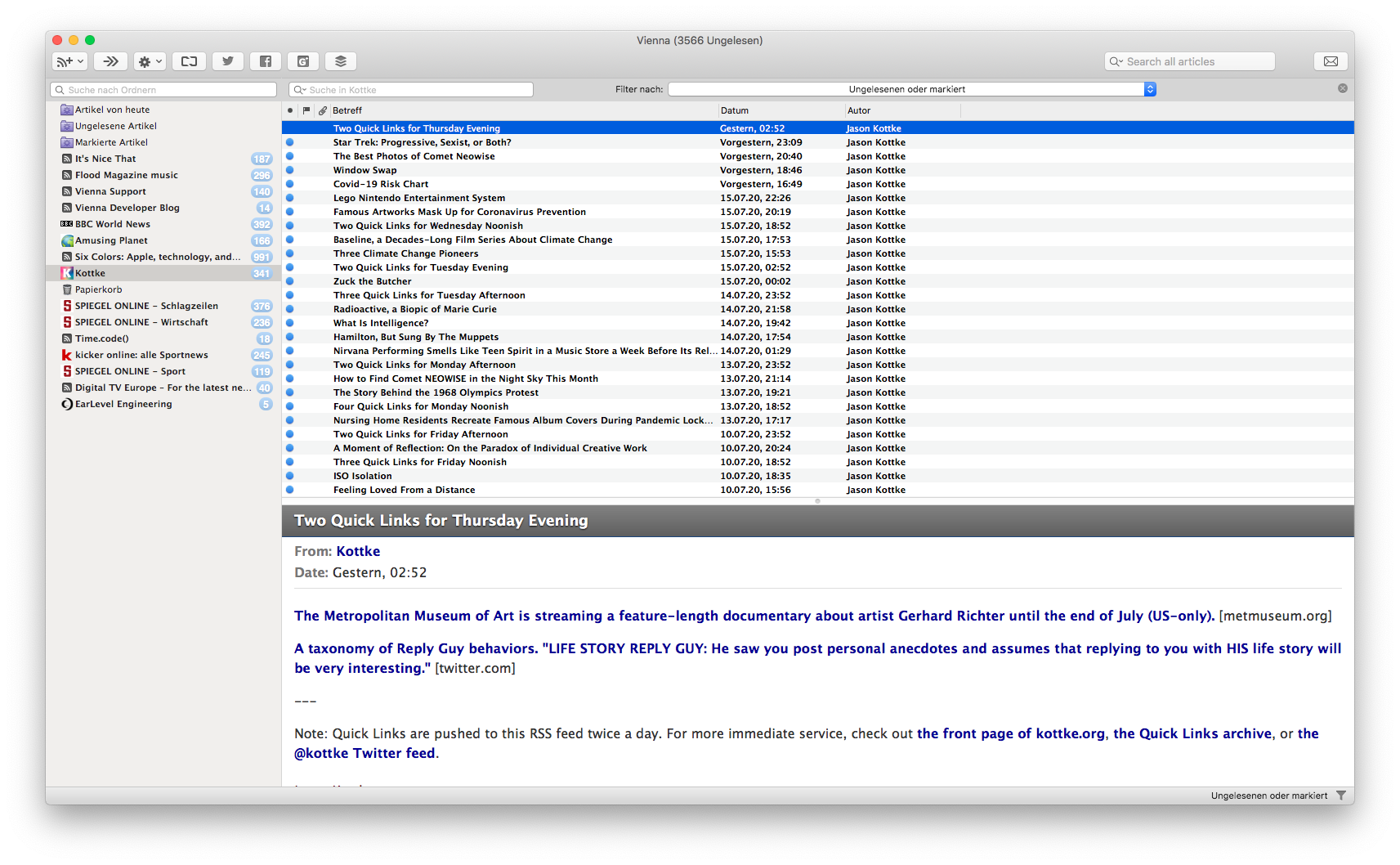 Social metrics everywhere
Looking around for newer existing solutions I only found the usual algorithms, "we think this is hot because many are reading this". But that was not any better than the problem I started with. So I digged into the topic of how to order the content based on the content itself - hello Natural Language Processing (NLP).
Bring the noise
The plan was to group content by similarity. That way nothing is filtered but you do not have to read topics that do not interest you. A nice side effect: if we have found large groups of similar content, we probably have found a trending topic. So if you do not have much time, you can just check the hot topics in each feed and call it day (like Twitter trends).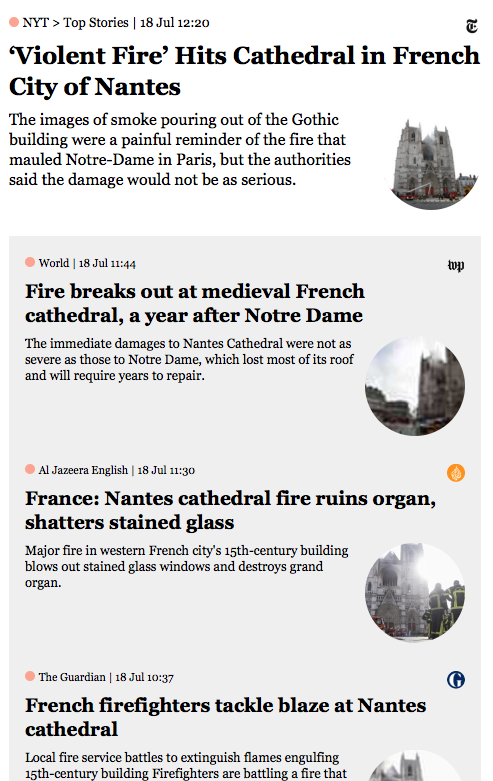 This is pretty tough actually
What sounds like a simple plan was actually a pretty tough task. It worked pretty soon in theory but it needed a lot of tuning to get acceptable results. Now after two years of tuning, the moments thinking "why the *** did you do that" (you being the grouping thing) get lesser.
Making it less nerdy
It's hard to argue the best days of RSS are over. Will there be a renaissance? Maybe. Don't get me wrong there are still many RSS feeds out there, but they are quite often hard to find. For example Reuters news agency shut off their feeds some days ago, Bloomberg does not even bother.
On Nooshub there are collections of RSS feeds for many topics with everything setup for that reason. You can copy them and start from there or just follow them. Many of you already have their feeds in an OPML file and can import them, another great thing with RSS. Imagine you ask Facebook: "Excuse moi, can I get all the stuff I follow in a format I can import in TikTok?" Yep, that is basically what OPML is. A nightmare from a business perspective, but great for everybody else.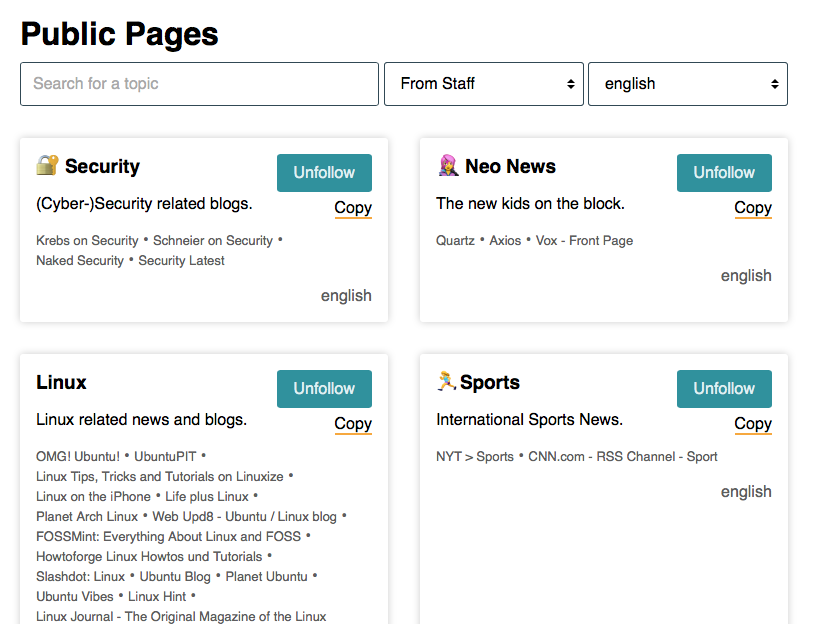 But where are all the features?
I am well aware of the fact that there are other products with many more features. If you are missing something let me know, feedback is always welcome. I am also not sure about the importance of an app, but it seems to be important.
There are some special features though I like to point out:
Public pages: Like to share? Make your page public and let others follow. You can add your blog, podcast etc. You can see how many people follow the page.
Embed article widget (beta): You probably have seen embedded tweets, we have a widget that does the same thing for articles, article groups and podcasts. We have no name for it yet.. let me know!
Live notifications for new articles
Powered by nooshub.com.
Our embed widget in action
Can I try?
Yes indeed! Everybody can try the app for 1 month, I think it is a fair amount of time. In case you ask why there is no free option available - I think the days of ads paying for services are getting shorter. Everybody has adblockers, and I highly recommend it!
So if you decide to try, here are some tips:
After the first login you can follow some existing pages - I recommend following the general news page or the technology page just to see how it works
if you have an OPML and import it, you need to adjust the grouping for the imported pages, as this information does not exist on other services. Just open the page you want to adjust, then -> Edit Page -> Grouping. There you can select the language and how similar content has to be to be grouped. You can see a live preview of your changes while doing so. The higher the similarity, the smaller the groups will be.
if you start from scratch, select New Page and give it a name. On the next page you can add feeds by entering a word to search, a url like nyt.com or a feed url. You can then choose from the results until you are ready to adjust the grouping in the next tab, done!
Other infos
The grouping works with English, German, and French (beta)
polling interval is between 15min and 2h at the moment, dependent on the feed's article frequency
there are no third party scripts like trackers on the website