MacRumors: Mac News and Rumors - Front Page
| 25 Sep 18:21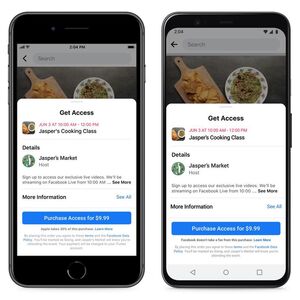 Apple has decided to temporarily waive the 30 percent cut that it takes from in-app purchases for Facebook's in-app paid event feature, reports CNBC . Facebook had accused Apple of hurting small businesses by collecting fees from the new feature, which lets users attend online classes and events through Facebook. The policy update will pertain to ClassPass and Airbnb, two companies that are also offering new digital experiences and classes within their apps. An Apple spokesperson said that Apple reversed its decision on the Facebook event fees due to the pandemic and a desire to give companies more time to adapt to digital business models. Apple says that Facebook will not have to pay fees through the end of the year, with Apple to resume taking its standard 30 percent cut in 2021. Desp...

Engadget RSS Feed
| 25 Sep 18:00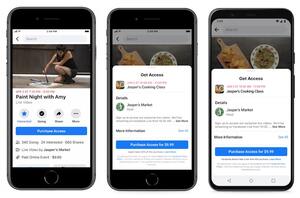 Last month, Facebook and Apple clashed over App Store fees. Now, Apple seems to be easing up slightly. Businesses that host paid online events through Facebook on iOS will be able to keep all of their earnings (minus taxes), Facebook announced today....

TechCrunch
| 25 Sep 18:00
Last month, Facebook introduced support for paid online events — and because many of the businesses offering those events have struggled during the coronavirus pandemic, the company also said it would not collect fees for the next year. At the same time, it complained that Apple had "dismissed" its requests to waive the App Store's […]

The Verge - All Posts
| 25 Sep 18:00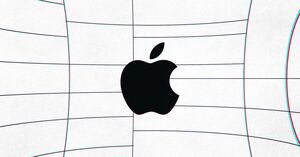 Illustration by Alex Castro / The Verge Earlier this year, Facebook launched a new feature that let small businesses create paid online events . The company framed it as a way of helping organizations struggling with lost revenue during the pandemic, and said that because of the exceptional circumstances, it would not collect any fees on purchases for these events until August 2021. But the social network also stressed that any payments made on iOS would be subject to Apple's standard 30 percent platform fees, noting this meant less money for small businesses. As Fidji Simo, head of Facebook's main app, said at the time: "We asked Apple to reduce its 30% App Store tax or allow us to offer Facebook Pay so we could absorb all costs for businesses struggling during COVID-19.... Continue r...