Reuters: Top News | 22 Jan 19:24
U.S. Senate Republican leader Mitch McConnell said on Tuesday the Senate would vote this week on President Donald Trump's proposal to end a partial government shutdown.
CNN.com - RSS Channel - App International Edition | 22 Jan 19:13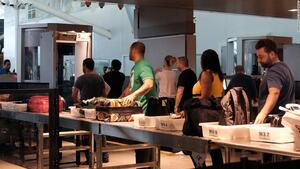 On Tuesday, Senate Majority Leader Mitch McConnell will take up President Donald Trump's already-doomed proposal to re-open the government by offering temporary protections for DACA recipients in exchange for money to build his border wall. Then, on Wednesday, Speaker Nancy Pelosi will hold a vote in the House on a continuing resolution that would re-open the government through February 28. It will pass the House and be ignored by the Senate.
Reuters: Top News | 22 Jan 19:12
President Donald Trump on Tuesday attempted to move ahead with planning for a State of the Union speech to the U.S. Congress on Jan. 29 despite pressure from Democrats to delay it due to the government shutdown, as his immigration proposal suffered a blow from the U.S. Supreme Court.